Hire DevOps Engineers
Every company is seeking to hire a specialist. However, DevOps is quite a complex direction, and it is only possible to do it correctly with the help of DevOps engineers. With many years of hiring experience, Ficus Technologies is ready to help you hire DevOps engineers for any project.
Why

choose devops engineers?
Code Quality Practices We Promote and Check during DevOps Engineering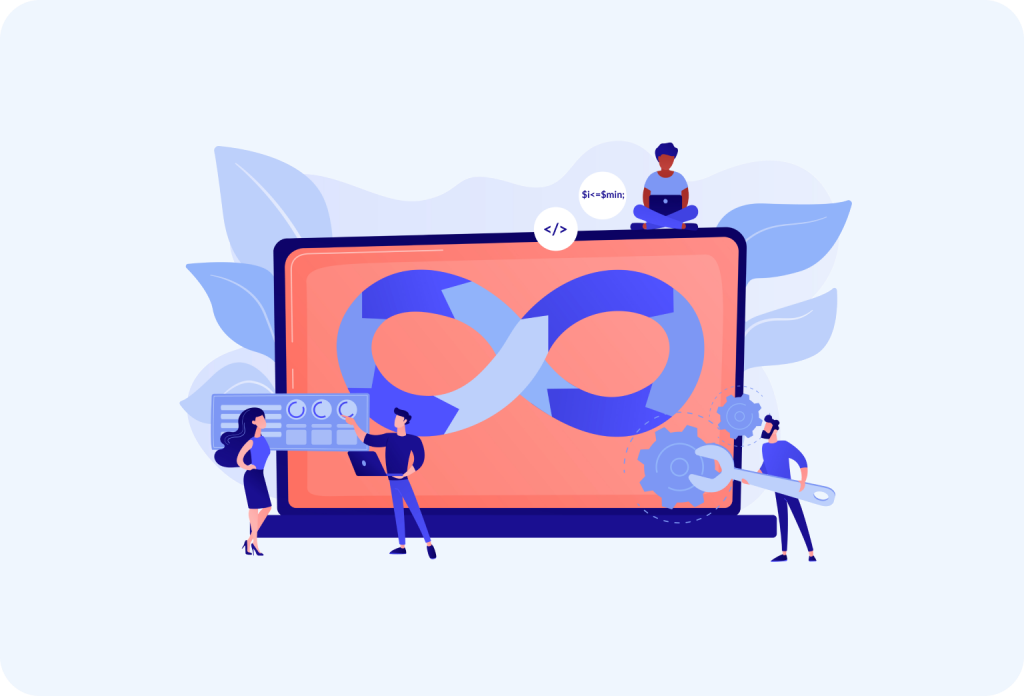 During DevOps engineering, developers promote and check code quality through various practices to ensure the delivery of high-quality software. Here are three main code quality practices:
Embracing coding conventions: Developers establish coding conventions, which include recommended styles and practices for a specific programming language. Adhering to these conventions ensures consistency and readability of the codebase, making it easier to understand, maintain, and collaborate on the code.
Automated code quality checks with linters: By incorporating linters into the DevOps pipeline, developers can automatically analyze the codebase for potential issues, such as syntax errors or formatting inconsistencies. Linters are enabling developers to identify and fix code quality issues early in development.
Code reviews and collaboration: Developers examine each other's code to identify potential bugs, design flaws, or improvements. By leveraging collaboration tools and platforms, developers can effectively review code, provide feedback, and ensure that code meets the team's quality standards during the DevOps engineering process.
Why Hire DevOps Engineers from Ficus Technologies?
Application of flexible development methodology
The core agile DevOps team's practices focus on addressing the customer's weaknesses by developing an MVP from the ground up, often receiving feedback to gain valuable information that will enable changes to be made before development is too advanced.
DevOps engineers are skilled enough to choose the right tools and DevOps solutions at each stage of the life cycle to improve software quality and speed of delivery.
Implementation of automation
A responsible team of engineers can automate all routine processes with DevOps practices, from batch processing to frequent confirmations. In addition, it may include automated tests, within which integral, modular, integration and operational tests are located.
DevOps application monitoring
It is very important to constantly test applications during the development process under DevOps practices to detect errors or performance deficiencies and thus anticipate a possible report from customers about these malfunctions.
Thinking about
outsourcing in Ukraine?
Innovate, get to market faster, and gain a competitive edge with our services.
Hire DevOps Engineers in 5 Simple Steps
Our IT Outstaffing process is intended to ensure we comprehend our client's needs and requirements to provide the best staffing solutions. The following are the stages in our IT Outstaffing company.
Determining the client's demands to the candidate
We begin by grasping our customer's staffing demands and requirements. It includes knowing the project's scope, timetable, plans and deadlines, the number of specialists required, etc.
Interview between client and candidate
Once prospective applicants have been found, we perform a comprehensive evaluation process that includes a technical interview and skills evaluation. It allows us to ensure that the individuals we suggest are formally qualified and culturally compatible with our customer's companies.
Approval of the candidate
After two preliminary stages, we will be ready to select the best developers from our team according to your needs.
This is one of the essential stages where we try to consider all the conditions of cooperation which will be comfortable for our client.
Onboarding a developer for a client project
We also assist our customers with onboarding after choosing the candidates they wish to collaborate with.
testimonials
Find out more about our client's experience of working with Ficus Technologies and its results for their business.
The entire process of hiring was simple. We had a strict deadline and needed to find profs for our project, and Ficus made it: the staff they hired was extremely knowledgeable and provided us with a diverse pool of highly qualified software development services. We were delighted with their level of service and for sure would hire them again.
I strongly recommend staffing services from Ficus Technologies for those looking for good developers. Their distinguishing feature is that they took the time to learn about our company's needs and culture, guaranteeing a good fit. So, they studied our project and found an efficient and communicative team of software developers. Thanks to such staffing solutions, we could succeed in our project.
8allocate needed assistance and was discovering competent developers, and the Ficus Technologies team connected us with various highly qualified specialists. The staff they offered was extremely accommodating and made the whole process stress-free. Our company applauds their knowledge and strongly recommends their services to every business because they are at the highest level.
We found an ideal software developer for our company thanks to Ficus Technologies. We were impressed by the high caliber of software engineers they presented to us during the process, which was smooth and efficient. After completing the project, we strongly advise anyone seeking staffing solutions to address the Ficus Technologies company.
Our company urgently needed a Frontend developer with React.Js knowledge. We contacted Ficus Technologies about possibly engaging their specialist to work on our project, and they provided us with a developer whose technical skills fully met our needs. The project was completed on time and met all our requirements. We highly recommend Ficus Technologies.
We had an urgent need for a skilled professional, and the Ficus Technologies team went above and beyond our expectations. They successfully identified competent specialists for our project, enabling us to swiftly fill the vacant position. We applaud their professionalism and wholeheartedly endorse their services for any enterprise.
They worked challenging and gave us quality services for us. It was an excellent experience of cooperation with the Ficus Technologies team, which is professional and proactive and supplied outstanding software developers to our organization. We are incredibly thankful for their assistance and would gladly hire them again for our future projects.
Frequently asked questionS
How to implement DevOps?
Implementing DevOps engineering practices is based on the construction of a sustainable pipeline of releases, which is based on the automation of routine software development processes.
What will the DevOps team do for you?
There is no doubt that DevOps engineers will bring more opportunities to your company, and you will be able to eliminate production problems because it covers every component of the IT ecosystem.
What are the DevOps practices?
Currently, DevOps practices are a handy tool for progressive companies, so for example, DevOps engineering can help you implement new strategies by optimizing the process of training workers.
What are DevOps skills?
The primary skills for a developer who wants to work with DevOps practices are coding and scripting, but one should not forget about communication and collaboration, as well as сloud skills.