Hire Python Developers
Is it time to hire Python developers for your business? Then Ficus Technologies can help you. We are a leading IT solutions and services provider with a team of experienced Python developers, and our team will help you create secure and scalable software. Discover how our specialized skills can propel your business toward its objectives and the advantages of partnering with Ficus Technologies for your Python developer hiring needs.
Why

choose python developers?
Code Quality Practices We Promote and Check during Python development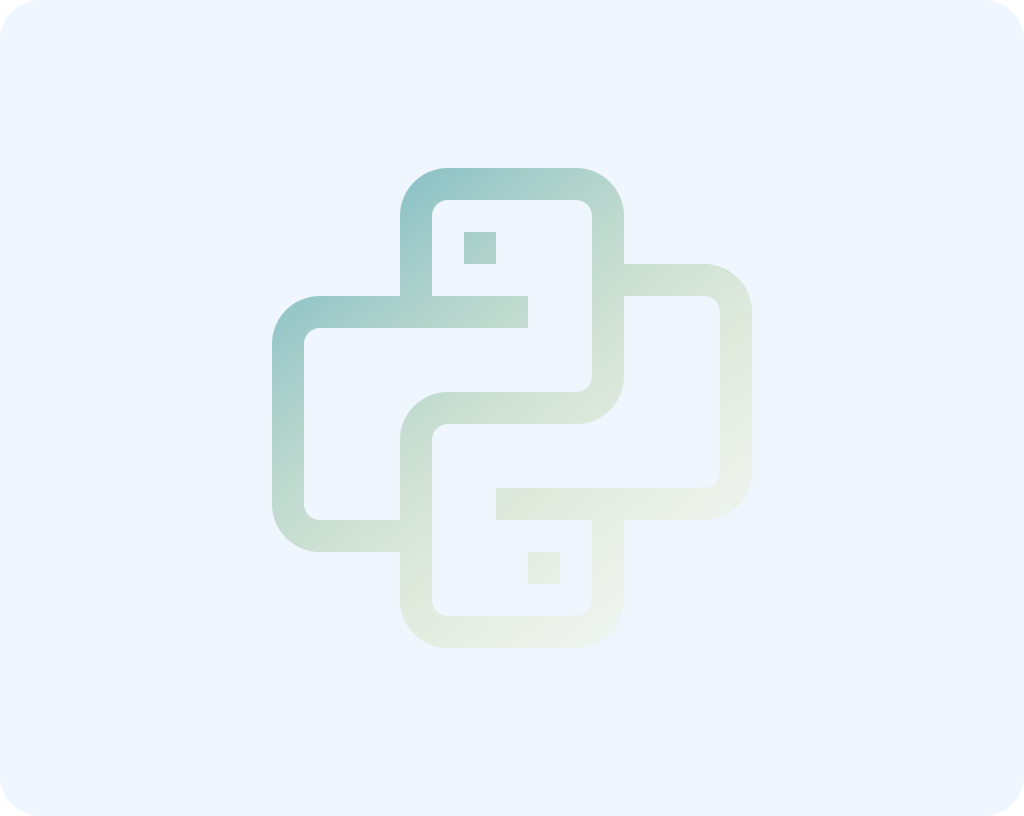 As a software and web development company, we prioritize code quality. If you hire a Python developer at Ficus Technologies, you will get smooth-operated and trouble-free software support.
Moreover, one of the key QA practices we focus on is a clear and readable code structure. Our Python programmers follow the rules of creating clear and concise code, understandable variables, and comments to ensure the code is well documented and easy to follow and support.
Besides, we use test frameworks to check the code for bugs and ensure that the code works correctly. Our QA engineers perform regular testing to detect and fix bugs in each project code before deployment.
When evaluating the quality of work, efficiency is of considerable importance. Our Python programmers use efficient algorithms and data structures to enhance project output, and this is done to anticipate minimizing storage usage and minimizing standby computation.
Along with these approaches, if you hire a Python programmer, we recommend using version control to track code modifications and reviews to ensure the code meets your quality expectations.
Why Hire Python Developers from Ficus Technologies?
The Python developers team's unique experience qualitatively distinguishes them from the competition. We can guarantee that our experts can create secure and scalable software that meets modern business needs if you hire a Python developer.
Agile development methodology
Our Python developers' workflows are built on adaptable development methodologies that facilitate ongoing teamwork and prompt, steady updates. Furthermore, this strategy ensures transparency throughout the development process and the ultimate product alignment with your desired outcomes.
Quality assurance and testing
At Ficus Technologies, great importance is given to quality assurance and testing to guarantee that our developed applications are free of errors and operate seamlessly. We have a group of committed quality assurance professionals who test the application at every phase of the development process.
We provide maintenance and support services following application development to guarantee optimal performance even after the launch. Our team of Python developers regularly supplies updates and bug fixes to keep the application secure and current.
Thinking about
outsourcing in Ukraine?
Innovate, get to market faster, and gain a competitive edge with our services.
Hire Python developers in 5 Simple Steps
Our IT Outstaffing process is intended to ensure we comprehend our client's needs and requirements to provide the best staffing solutions. The following are the stages in our IT Outstaffing company.
Determining the client's demands to the candidate
We begin by grasping our customer's staffing demands and requirements. It includes knowing the project's scope, timetable, plans and deadlines, the number of specialists required, etc.
Interview between client and candidate
Once prospective applicants have been found, we perform a comprehensive evaluation process that includes a technical interview and skills evaluation. It allows us to ensure that the individuals we suggest are formally qualified and culturally compatible with our customer's companies.
Approval of the candidate
After two preliminary stages, we will be ready to select the best developers from our team according to your needs.
This is one of the essential stages where we try to consider all the conditions of cooperation which will be comfortable for our client.
Onboarding a developer for a client project
We also assist our customers with onboarding after choosing the candidates they wish to collaborate with.
testimonials
Find out more about our client's experience of working with Ficus Technologies and its results for their business.
The entire process of hiring was simple. We had a strict deadline and needed to find profs for our project, and Ficus made it: the staff they hired was extremely knowledgeable and provided us with a diverse pool of highly qualified software development services. We were delighted with their level of service and for sure would hire them again.
I strongly recommend staffing services from Ficus Technologies for those looking for good developers. Their distinguishing feature is that they took the time to learn about our company's needs and culture, guaranteeing a good fit. So, they studied our project and found an efficient and communicative team of software developers. Thanks to such staffing solutions, we could succeed in our project.
8allocate needed assistance and was discovering competent developers, and the Ficus Technologies team connected us with various highly qualified specialists. The staff they offered was extremely accommodating and made the whole process stress-free. Our company applauds their knowledge and strongly recommends their services to every business because they are at the highest level.
We found an ideal software developer for our company thanks to Ficus Technologies. We were impressed by the high caliber of software engineers they presented to us during the process, which was smooth and efficient. After completing the project, we strongly advise anyone seeking staffing solutions to address the Ficus Technologies company.
Our company urgently needed a Frontend developer with React.Js knowledge. We contacted Ficus Technologies about possibly engaging their specialist to work on our project, and they provided us with a developer whose technical skills fully met our needs. The project was completed on time and met all our requirements. We highly recommend Ficus Technologies.
We had an urgent need for a skilled professional, and the Ficus Technologies team went above and beyond our expectations. They successfully identified competent specialists for our project, enabling us to swiftly fill the vacant position. We applaud their professionalism and wholeheartedly endorse their services for any enterprise.
They worked challenging and gave us quality services for us. It was an excellent experience of cooperation with the Ficus Technologies team, which is professional and proactive and supplied outstanding software developers to our organization. We are incredibly thankful for their assistance and would gladly hire them again for our future projects.
Frequently asked questionS
How do I pick the best Python development company?
Choosing a Python development company with a good reputation for providing top-notch Python development solutions is critical. You can evaluate Python developers' track records by reviewing their portfolios, reviews, and testimonials. Consider their level of experience, skill, and ability to communicate effectively as well.
What are the advantages of Python?
Python is a programming language that offers a variety of advantages, including simplicity, readability, and user-friendliness. It is also widely supported, has a large community, and provides a variety of libraries and frameworks that improve development speed and efficiency. These benefits have contributed to the popularity of Python developers among businesses and developers.
What is the purpose of Python?
Python is a versatile programming language used for everything from web development and data analysis to scientific computing, machine learning, and automation. Its adaptability and user-friendliness have made it popular for businesses and Python developers across multiple domains.
What are the main characteristics of Python?
Python is an interpreted language that does not require compilation before execution because of its simplicity, readability, and user-friendliness. Furthermore, Python provides many pre-built modules and frameworks, making software development easier if you hire Python developers.