Hire React.Js Developers
React.Js has several advantages for building dynamic, user-friendly online apps, making it the obvious choice for growing projects. With a proper React.Js consultation, planning a company's online project may be challenging, considering the number of tools, libraries, and frameworks available. So, seeking counsel and locating a qualified React.Js engineer is critical for any project.
Why

choose React.js developers?
Code Quality Practices We Promote and Check during React.Js development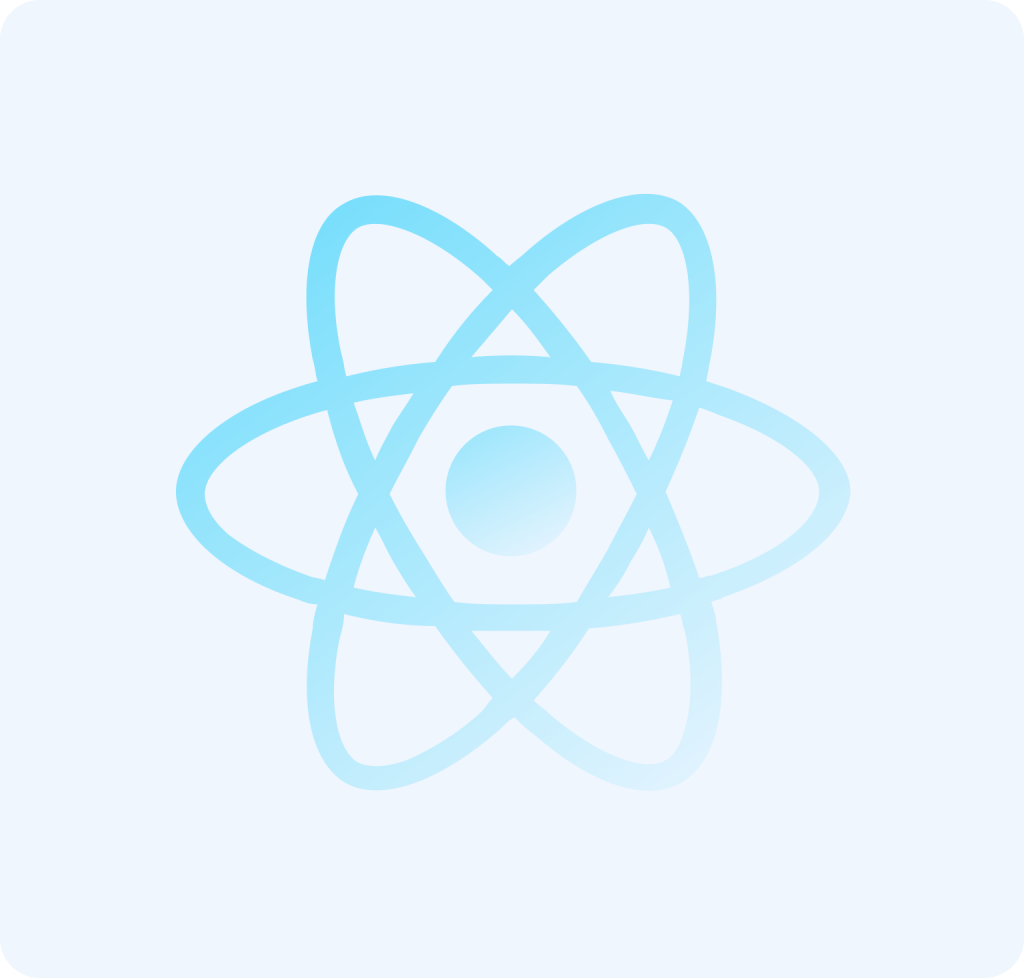 What should you know before hiring a React.Js developer? It is critical for the company owner to know that React is a library/visualization framework that is typically used to construct web applications as part of larger projects. Ficus Technologies has a wealth of knowledge in this area. And we can promise you that our React.Js developers are familiar with React Hooks, React Context API, and Redux, among other things:
A senior software engineer who works with React can give you an in-depth understanding of HTML, CSS, SASS/LESS/Stylus, etc.
Understanding of the following libraries is required: jQuery, MomentJS, Underscore, and Lodash.
Our React.Js engineers are familiar with a wide range of JavaScript technologies, including npm, Yarn, the Node.js platform, and application development automation tools. Webpack, Parcel, or Rollup are all options.
TDD, BDD, unit tests, and testing tools such as Jest or Enzyme are utilized for testing.
Excellent knowledge of cloud computing systems such as SaaS, Amazon AWS, Google Cloud, and Microsoft Azure.
An out-staffed React.Js developer may provide your company with an excellent technological stack. So the decision to hire a React.Js engineer from Ficus Technologies is correct.
Why Hire React.Js Developers from Ficus Technologies?
Organizations are eager to adopt technologies that enable them to minimize time to market, produce software solutions on time, and install them without difficulty, so they engage React.Js developers. React.Js is ideal for this due to its fast development pace and utilization of reusable components. React.Js developers feel that creating high-performance applications is simple and manageable, ensuring good performance and expediting maintenance.
React.Js is reliable because it is supported by well-known companies such as Facebook and Instagram and millions of developers worldwide. Despite the increased peer-to-peer competition, React.Js has maintained its popularity and virtually surged again. As a result, React.Js developers that use React discover security and stability.
With so many tools and frameworks available, React draws developers with its ease of use. React.Js has become a simple alternative for both newbie and experienced React.Js developers. It eased work programming and simplified resource administration at a high level.
Effective design and development tools
React has a robust suite of design, development, and debugging tools. Some browsers, such as Chrome and Firefox, include tools for React.Js developers. They enable developers to adhere to validation in the V-DOM, and it is even feasible to trace the component hierarchy.
Thinking about
outsourcing in Ukraine?
Innovate, get to market faster, and gain a competitive edge with our services.
Hire React.Js developers in 5 Simple Steps
Our IT Outstaffing process is intended to ensure we comprehend our client's needs and requirements to provide the best staffing solutions. The following are the stages in our IT Outstaffing company.
Determining the client's demands to the candidate
We begin by grasping our customer's staffing demands and requirements. It includes knowing the project's scope, timetable, plans and deadlines, the number of specialists required, etc.
Interview between client and candidate
Once prospective applicants have been found, we perform a comprehensive evaluation process that includes a technical interview and skills evaluation. It allows us to ensure that the individuals we suggest are formally qualified and culturally compatible with our customer's companies.
Approval of the candidate
After two preliminary stages, we will be ready to select the best developers from our team according to your needs.
This is one of the essential stages where we try to consider all the conditions of cooperation which will be comfortable for our client.
Onboarding a developer for a client project
We also assist our customers with onboarding after choosing the candidates they wish to collaborate with.
testimonials
Find out more about our client's experience of working with Ficus Technologies and its results for their business.
The entire process of hiring was simple. We had a strict deadline and needed to find profs for our project, and Ficus made it: the staff they hired was extremely knowledgeable and provided us with a diverse pool of highly qualified software development services. We were delighted with their level of service and for sure would hire them again.
I strongly recommend staffing services from Ficus Technologies for those looking for good developers. Their distinguishing feature is that they took the time to learn about our company's needs and culture, guaranteeing a good fit. So, they studied our project and found an efficient and communicative team of software developers. Thanks to such staffing solutions, we could succeed in our project.
8allocate needed assistance and was discovering competent developers, and the Ficus Technologies team connected us with various highly qualified specialists. The staff they offered was extremely accommodating and made the whole process stress-free. Our company applauds their knowledge and strongly recommends their services to every business because they are at the highest level.
We found an ideal software developer for our company thanks to Ficus Technologies. We were impressed by the high caliber of software engineers they presented to us during the process, which was smooth and efficient. After completing the project, we strongly advise anyone seeking staffing solutions to address the Ficus Technologies company.
Our company urgently needed a Frontend developer with React.Js knowledge. We contacted Ficus Technologies about possibly engaging their specialist to work on our project, and they provided us with a developer whose technical skills fully met our needs. The project was completed on time and met all our requirements. We highly recommend Ficus Technologies.
We had an urgent need for a skilled professional, and the Ficus Technologies team went above and beyond our expectations. They successfully identified competent specialists for our project, enabling us to swiftly fill the vacant position. We applaud their professionalism and wholeheartedly endorse their services for any enterprise.
They worked challenging and gave us quality services for us. It was an excellent experience of cooperation with the Ficus Technologies team, which is professional and proactive and supplied outstanding software developers to our organization. We are incredibly thankful for their assistance and would gladly hire them again for our future projects.
Frequently asked questionS
When was React.Js introduced?
React.Js is a JavaScript component library that may be used to create user interfaces for websites and applications. It was created in 2011 by Jordan Walke and represented the beginning of the efforts of React.Js developers to create fast and dynamic websites using JavaScript.
Is React.Js a framework?
React is a JavaScript library used to create user interfaces. Please keep in mind that this is a library and not a framework. React is frequently referred to as a framework, but this must be corrected. To begin with, using it does not bind you to anything. It does not create the "frame" of the project.
When using React.Js?
When developing single-page apps (SPAs), senior software engineers should utilize React because it allows them to rewrite and alter the content of a web page without having to reload or refresh the page.
Why use React.Js?
The streamlined library development interface and coding language are vital reasons to utilize React.Js for web development with an outsourcing React.Js developer. As a result, React's lightweight API gains excellent performance capabilities for a quick and smooth development workflow. Because React components and concepts are so simple to grasp, there is little of a learning curve.
Which companies use React.Js?
Take one of the most well-known businesses in the world as an example. Facebook is a major React proponent. Their website was created with React and a JavaScript incorporated into the app code.