Every web developer must remember that web applications depend on servers, databases, operating systems, and development environments. No firm that develops different websites and applications could have done or achieved anything without the knowledge and human resources to carry out functionality using the different platforms available on the market. It's where web development stacks finally came into play. Web development companies' business clients should understand that it is vital in this field as the website's user experience and functionality are affected.
Web development stacks offer tools and different technologies as the foundational platform to enhance the functionality of web applications. Suppose you are a beginner developer with extensive web development stack knowledge. This article will list everything you must know about modern web development stacks in 2023.
Let's get started!
Web developers, software development enthusiasts, and those interested in web stacks.
Web development stacks are essential for building web applications efficiently.
The article lists common web development stacks for front-end, back-end, and full-stack development.
Considerations for choosing a web development stack include project type, talent pool, data models, and time-to-market.
What is the definition of a web development stack?
The web development stack means an assembly of different software for the creation of web pages. It's a blend of unique coding libraries, coding languages, frameworks, and services that work together to create web applications. The whole application may be built with a full development stack. It often consists of languages for developing various software, front-end and back-end tools for programming, databases, frameworks of numerous sorts, and APIs.
Major Components Of A Web Development Stack
The web development stack is generally made up of two main parts. The first is the client (front-end), and the second is the server (back-end). To realize the different features of a website, we combine each component with several technologies. The web application is constructed using a combination of technologies known as a web development stack.
Selecting the right web development stack is essential because of its significance and how it will impact the whole website experience. Apart from its technological benefits, it can also help you find the relevant skills and expertise that your business needs. Besides, you can improve the performance of your app development.
Understanding what to look for in the perfect developer in terms of talent and experience will help you be prepared for the next step. More importantly, it will help you manage your funds properly and decrease the extra costs associated with the hiring process. In this section, you will learn more about the different elements of web development stacks.
The Front-End
Customers engage with a website immediately on the front end. However, this part of the web development stack based on the Open Web Platform comprises many technologies.
The following are the three main elements of the web development stack that the UI depends on:
User interface: The content generated by a web application is first displayed visually. This is where you can customize the user interface to meet your needs, provide graphical viewing capabilities, and access website data.
Markup language: HTML markup often provides information to browsers and viewers.
Programming language: This technology enables the development of live, interactive websites. It is an extra section of the program with interactive features to enhance the user experience.
The Back-end
The back-end framework provides a connection between the database and web services. However, it also demands the use of other critical IT services, like file and cloud servers, as well as the performance and application of business logic. It also has more layers of programming and technological capabilities than the front-end.
Logic in the application: The application logic is crucial because it produces directives that assist the web servers and offers instructions to handle user requests on the back-end. It removes redundancy in the code and provides the freedom to reinvent the wheel as part of the programming language if necessary.
File system: Every application needs a reliable file system or management platform. By 2023, most modern applications will be data-driven and closely linked to data analytics at all development stages to improve the final product's quality and usability.
Database: Database is the other important interface component that monitors, organizes, and makes accessible product information. The database includes and stores extra information, like user IDs, transactions, and other valuable data the application generates.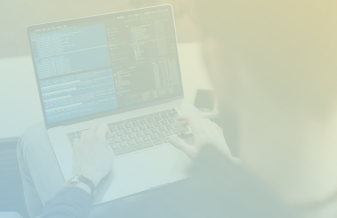 Popular in-use Web Development Stacks
Developers often use many different web development stacks to perform development operations. Below, we will tell you about some of the most common web development stacks for front-end, back-end, and full-stack:
Front-End Frameworks
JavaScript frameworks limit the choice of frameworks for front-end development, as it is the one programming language that can be referenced like an open web platform. We have gathered some of the most used JS frameworks in web development stacks:
Vue (Vue.Js)
Vue is a Javascript stack framework for building custom interfaces using the model-view-model-model design patterns. Single-page applications are more easily deployed and managed with the help of the user-friendly Vue core library and associated libraries. The framework can be progressively scaled depending on the workload and use case.
Angular
Angular is an "open source" framework for single-page website building supported by Google and the open-source development community. In addition to being completely extensible, Angular can be easily integrated with many other libraries.
React
React.Js is one more declarative open-source Javascript framework developers mainly use to build user interfaces and their components. It may surprise you that Facebook and other companies support this open-source framework as a foundation for mobile and single-page website development.
Back-end Frameworks
Django
Django is an open-source Python-based framework with architectural patterns that follow the model-template design. It is one of the most widely used and valuable web development stacks. It's a top-quality framework that contributes to clean, practical, and user-friendly design while offering fast deployment. The best thing you'll love about this framework is that it allows you to realize web features such as forms, user authentication, permissions, data serialization, and caching.
Node (Node.Js)
Node.Js is a freeware, cross-platform Javascript framework that utilizes the Chrome v8 engine for front-end execution in web development. With Node.Js, you can create a server-side application using asynchronous, event-driven activities to build highly scalable, networked applications.
Express (Express.Js)
This modern, lightweight, and responsive framework for web applications is based on Node.Js Express and has a comprehensive back-end functionality. With middleware and many HTTP utility methods, Js enables you to create APIs quickly.
Full Stack Frameworks
Django, Vue.Js, and Python
Python-based web development stack provides an effective, simple-to-understand, and easy-to-learn framework. This modern web development stack facilitates rapid prototyping with features like Class-based views and object-relational models (ORMs). Using Django ORM, developers can avoid the difficulties of designing and maintaining databases. They can also create databases without writing SQL code.
Effective Web Development Stack: MEAN, MERN, MEVN
Without needing JavaScript, this web development stack offers a simple yet efficient method for deploying single-page applications.
Below are a few technologies used for its components:
Database – MongoDB
Server-side framework – Express.Js
Client-Side Framework – Angular/React/VUE
LAMP
The best option for the creation of a full-fledged web application is LAMP. LAMP is a framework for a generic software stack consisting of exchangeable parts. We have listed below some of the technologies used in its components:
Operating system: Linux
Server: Apache
Database: MySQL
Client-side programming: PHP
Flutter
Flutter is an open-source web development framework for creating cross-platform web applications.
Flutter is used to create web applications for Mac, Windows, iOS, Linux, and Android operating systems.
Among the most outstanding features of this toolkit is its user-friendly UI, which enables developers to produce applications for several devices utilizing a single code base.
Things To Consider When Choosing A Web Development Stack
Selection of a relevant web development stack for a given project is the first step of a web developer. Every web developer should consider the following characteristics and drivers when choosing which stacks suit their project.
Project Type
What type of project you're building should be the primary consideration in your web development stack. Are you looking to build a blog? Are you looking to build a multi-page company website? Each endeavor requires the use of multiple languages and levels of complexity. But when making a decision, the most important thing is the result.
Are you looking for a simple, clear website with a single purpose? Do you want a user-friendly, graphics-rich product? Then, the stack more oriented to static web development, such as Sencha and JSF, Django and Python, and Ruby on Rails, and the dynamic stack, such as WordPress, PHP, Ruby, and AJAX, will help you.
These are not on a scientific scale; each project has unique needs and requirements. Nevertheless, it can be a smart criterion to help you get started.
Which stack should I choose for web development? The answer is that it depends on how well your online requirements are balanced and your familiarity with technology.
You will be surprised at just how much our online world has evolved since we first started doing web programming; therefore, we recommend that you explore what each web development framework has to offer.
Suppose you won't analyze the pros and cons of which framework to use in your work. In that case, you should focus on a small number of domain-specific tools, such as those that will help you increase the test coverage of your application and make your life easier while working on it.
Human Resource Talent Pool
Organizations should develop the same skill set when selecting a web development stack. Adding new technologies to the toolkit requires hiring more skilled employees, ultimately increasing costs. Choosing a small but competent staff is highly recommended, as it will allow you to focus on the products and take your attention off other concerns.
Data Models
While choosing the ideal stack for web development, look at the data that a model represents, not the data models. Analyze whether data models are included in the language, framework, or support. Particular data models can be complicated when you manage data collections that vary in size, type, and data.
On the other hand, some data models will have a particular data type and a specific data format.
The data model should have strong support. Like Word documents and large text files, data models are always compact. That said, you should have a disk that holds at most 1,000 bytes of data that warrants attention.
Data should be scalable. Please consider whether the data can be stored in a file that can be accessed by a computer language such as Python or in a SQL database table. A database table can contain data.
Time To Market
Each startup and digital company considers time-to-market as a vital component. Fast-tracking development and deployment provides real benefits and reduces application development costs. By choosing the correct web development stack to suit your project, however, you can do this.
Take a look at the following details to find out how fast a technology stack creates products:
Unique and custom features
24/7 developer availability
Convenient third-party integrations
Documentation and support.
Conclusion
Ficus Technologies combines highly experienced developers with solid web development skills. You can always be assured that we will create your web portal or application with all the latest development technologies, a high level of control at all stages, and full post-launch support.