Hire Full-Stack Developers
Undoubtedly, the popularity and demand of full-stack developers in the IT market are only growing. Our highly skilled professionals specialize in full-stack development, combining expertise in both front-end and back-end technologies. Whether you require dynamic front-end interfaces or robust server-side logic, we can deliver comprehensive solutions tailored to your needs.
Why

choose full-stack developers?

Today, dozens of reasons can be listed because your team receives many advantages if you hire dedicated full-stack developers. However, we will highlight the most basic ones, such as:
Code Quality Practices We Promote and Check during Full-Stack Development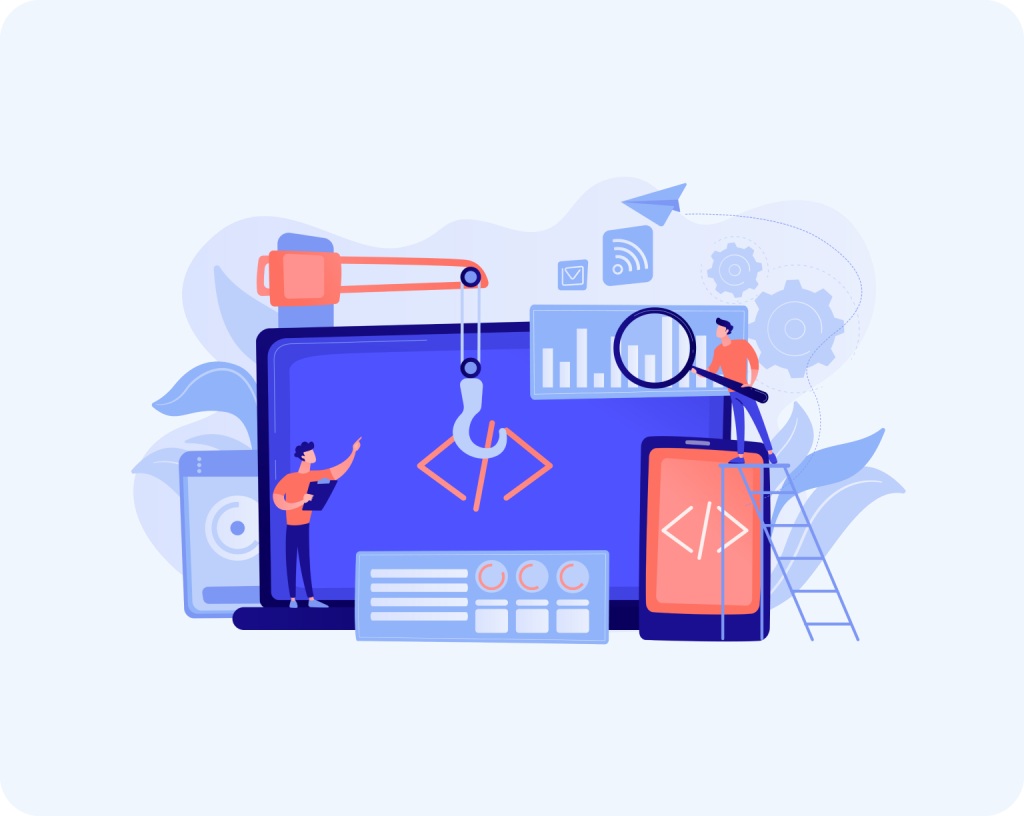 As you know, the software development process requires significant attention and validation. Developers use several practices to ensure high-quality code when it comes to code quality procedures in full-stack development. These are checks against during full-stack development for code quality:

Use coding standards: Implementing coding standards is one of the best ways to ensure high-quality code. Coding standards define a set of guidelines and conventions that developers follow when writing code. Using a coding standard reduces complexity and makes the codebase easier to understand.

Code analysis: We do code analysis both before and after code reviews. Early code analysis allows developers to identify problems and ensure the code meets the necessary quality standards.

Code reviews: involve having other team members review the code and provide feedback. Code reviews help identify issues, improve code quality, and spread knowledge within the team.
Why Hire Full-Stack Developers from Ficus Technologies?
Fast and high-quality development and support of Web and mobile applications
As you can guess, the interaction of Back-end and Front-end units is always more complicated, takes more time, and is accompanied by more errors and misunderstandings. This means that when you hire full-stack developers, you significantly reduce the number of errors, thus speeding up the development process. In addition, in large projects (industry, other commercial projects), the customer often needs to give formalized requirements or make many ongoing changes. In order to maintain productivity, it is more logical to choose full-stack developers for such projects.
Development of E-commerce projects of any complexity
If you pay to hire full-stack app developers and web developers in the field of E-commerce, then you have made the right choice because specialists in the full-stack sector will help you implement your plans quickly.
Diligence in quality testing
The testing stage is crucial for the entire development process. When you hire full-stack developers, specialists from the Ficus Technologies team can be sure of conducting meticulous quality testing and skillfully know how to automate testing and document it well.
Professionalism in security matters
Finally, our developers are well-versed in security issues and know what to do with all possible system vulnerabilities. This means that you can rest assured about your data and business security when you hire dedicated full-stack developers from our team.
Thinking about
outsourcing in Ukraine?
Innovate, get to market faster, and gain a competitive edge with our services.
Hire Full-Stack Developers in 5 Simple Steps
Our IT Outstaffing process is intended to ensure we comprehend our client's needs and requirements to provide the best staffing solutions. The following are the stages in our IT Outstaffing company.
Determining the client's demands to the candidate
We begin by grasping our customer's staffing demands and requirements. It includes knowing the project's scope, timetable, plans and deadlines, the number of specialists required, etc.
Interview between client and candidate
Once prospective applicants have been found, we perform a comprehensive evaluation process that includes a technical interview and skills evaluation. It allows us to ensure that the individuals we suggest are formally qualified and culturally compatible with our customer's companies.
Approval of the candidate
After two preliminary stages, we will be ready to select the best developers from our team according to your needs.
This is one of the essential stages where we try to consider all the conditions of cooperation which will be comfortable for our client.
Onboarding a developer for a client project
We also assist our customers with onboarding after choosing the candidates they wish to collaborate with.
Full-Stack developers you can Hire with Ficus Technologies
The Ficus Technologies team works not only with full-stack developers but also with many other specialists and types of coding.
Vue.Js & Node.Js
Our team, in addition to full-stack developers, consists of Vue.Js and Node.js professionals who can be engaged to create fast and scalable network applications easily.
React.Js & Python
React.js and Python full-stack developers possess expertise in combining the power of both technologies to create dynamic and robust web applications. Utilizing this technological stack, we can provide effective and scalable full-stack solutions for your company's demands.
Vue.Js & Laravel
Moreover, sometimes you may only need full-stack developers if you plan to create a multi-functional application or website. There are Vue.Js & Laravel for creating single-page applications.
React.Js & Node.Js
Our React.js & Node.Js full-stack developers are proficient in building modern, responsive, and feature-rich web applications. Expertise in both technologies, they excel in creating engaging user interfaces using React.Js and implementing scalable server-side logic with Node.Js.
testimonials
Find out more about our client's experience of working with Ficus Technologies and its results for their business.
The entire process of hiring was simple. We had a strict deadline and needed to find profs for our project, and Ficus made it: the staff they hired was extremely knowledgeable and provided us with a diverse pool of highly qualified software development services. We were delighted with their level of service and for sure would hire them again.
I strongly recommend staffing services from Ficus Technologies for those looking for good developers. Their distinguishing feature is that they took the time to learn about our company's needs and culture, guaranteeing a good fit. So, they studied our project and found an efficient and communicative team of software developers. Thanks to such staffing solutions, we could succeed in our project.
8allocate needed assistance and was discovering competent developers, and the Ficus Technologies team connected us with various highly qualified specialists. The staff they offered was extremely accommodating and made the whole process stress-free. Our company applauds their knowledge and strongly recommends their services to every business because they are at the highest level.
We found an ideal software developer for our company thanks to Ficus Technologies. We were impressed by the high caliber of software engineers they presented to us during the process, which was smooth and efficient. After completing the project, we strongly advise anyone seeking staffing solutions to address the Ficus Technologies company.
Our company urgently needed a Frontend developer with React.Js knowledge. We contacted Ficus Technologies about possibly engaging their specialist to work on our project, and they provided us with a developer whose technical skills fully met our needs. The project was completed on time and met all our requirements. We highly recommend Ficus Technologies.
We had an urgent need for a skilled professional, and the Ficus Technologies team went above and beyond our expectations. They successfully identified competent specialists for our project, enabling us to swiftly fill the vacant position. We applaud their professionalism and wholeheartedly endorse their services for any enterprise.
They worked challenging and gave us quality services for us. It was an excellent experience of cooperation with the Ficus Technologies team, which is professional and proactive and supplied outstanding software developers to our organization. We are incredibly thankful for their assistance and would gladly hire them again for our future projects.
Frequently asked questionS
What languages do full-stack developers use?
Different full-stack developers can have different coding languages. However, the basics of knowledge of such developers are Python, JS, PHP and HTML.
What can full-stack developers do that others can't?
When you ask the question: "what do full-stack developers do?", you should understand that a full-stack Developer is a natural multitasking person from the IT world who can lead a project from start to finish. This programmer is able to develop a functional web product from scratch independently, this is the main difference.
What is the difference between full-stack, front end and back end developers?
Backend development refers to the part of the application the user does not see. The front end is displayed on the screen when you enter a site or application. In turn, full-stack developers know frontend and backend and understand the technology stack, servers, OS and databases.
How to hire full-stack developers?
Today you can hire full-stack developers very quickly. When hiring full-stack developers, asking questions assessing their experience in choosing tech stacks, problem-solving abilities, and understanding of essential skills is essential. At Ficus Technologies, we constantly evolve our skills to ensure you hire skilled and competent full-stack developers.