Hire React.Js & Python Full-Stack Developers
Good React.Js & Python Full stack developers are precious professionals. And if you need to hire React.Js & Python Full stack developers, you can seek professional help from Ficus Technologies. We can help you identify strong developer skills and ensure they are a good fit for your company.
Why

choose React.Js & Python Full stack developers?
Code Quality Practices We Promote and Check during React.Js & Python development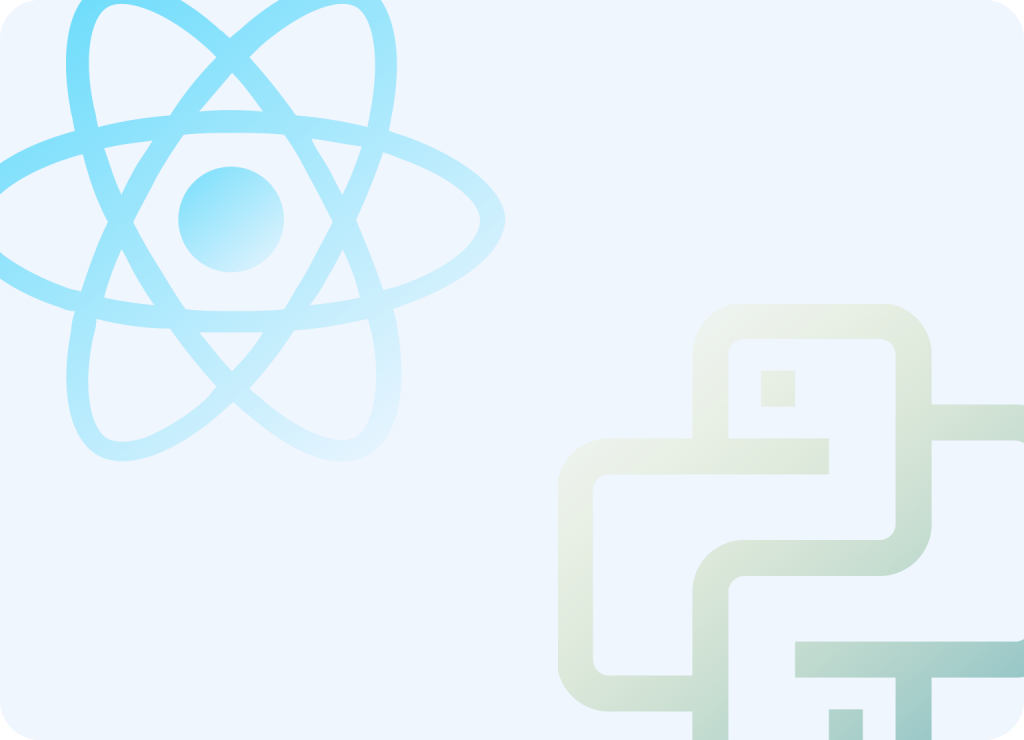 The stage of checking the quality of the code is no less important than the stage of its writing. Our dedicated team operates hard to ensure you get the highest quality code when hiring React.Js & Python developers. That's why we apply a wide range of quality checks, including automatic and manual code reviews by our Python and React.Js developers.
Moreover, quality control includes measures for planning the total scope of work, developing tests, performing testing, and analyzing the obtained results. One of the essential features of the work of React.Js & Python developers is that it can be used even if the software is developed in another programming language. When you hire React.Js & Python developers, you can be sure that the code passes all levels of testing, including module, integration, and system testing. The main task of testing is to check the operation of individual components in the application, for example, isolated functions, classes, etc.
While module testing is used to find errors in individual functions, integration testing tests the system as a whole. That's why both approaches are used together by React.Js & Python developers. During system testing, functional and non-functional requirements for the system are subject to verification.
Why Hire React.Js & Python Full-Stack Developers from Ficus Technologies?
If you have a separate project for which you hire Python and React.Js developers, we can offer you a comprehensive approach to its implementation. We can offer services such as full-cycle development, as well as manual or automated testing and full project management.
If you hire Python and React.Js developers, you will get specialists with a relatively comprehensive list of capabilities. For example, these specialists will be able to work with other JS frameworks and have the concept of working with the server part of the project.
Hiring excellent Python and React.Js developers is challenging because there is a lot of competition for them in the labor market. By hiring developers from Ficus Technologies, you can be sure that you will receive exactly the services you expect.
Working with someone else's code and project maintenance
Often clients need to hire a team of React.Js & Python developers to support an existing project. Such specialists can successfully solve new challenges and provide long-term support thanks to our project management methodologies and concepts.
Thinking about
outsourcing in Ukraine?
Innovate, get to market faster, and gain a competitive edge with our services.
Hire React.Js & Python Full-Stack Developers in 5 Simple Steps
Our IT staffing process is intended to ensure we comprehend our client's needs and requirements to provide the best staffing solutions. The following are the stages in our IT staffing company.
Determining the client's demands to the candidate
We begin by grasping our customer's staffing demands and requirements. It includes knowing the project's scope, timetable, plans and deadlines, the number of specialists required, etc.
Interview between client and candidate
Once prospective applicants have been found, we perform a comprehensive evaluation process that includes a technical interview and skills evaluation. It allows us to ensure that the individuals we suggest are formally qualified and culturally compatible with our customer's companies.
Approval of the candidate
After two preliminary stages, we will be ready to select the best developers from our team according to your needs.
This is one of the essential stages where we try to consider all the conditions of cooperation which will be comfortable for our client.
Onboarding a developer for a client project
We also assist our customers with onboarding after choosing the candidates they wish to collaborate with.
testimonials
Find out more about our client's experience of working with Ficus Technologies and its results for their business.
The entire process of hiring was simple. We had a strict deadline and needed to find profs for our project, and Ficus made it: the staff they hired was extremely knowledgeable and provided us with a diverse pool of highly qualified software development services. We were delighted with their level of service and for sure would hire them again.
I strongly recommend staffing services from Ficus Technologies for those looking for good developers. Their distinguishing feature is that they took the time to learn about our company's needs and culture, guaranteeing a good fit. So, they studied our project and found an efficient and communicative team of software developers. Thanks to such staffing solutions, we could succeed in our project.
8allocate needed assistance and was discovering competent developers, and the Ficus Technologies team connected us with various highly qualified specialists. The staff they offered was extremely accommodating and made the whole process stress-free. Our company applauds their knowledge and strongly recommends their services to every business because they are at the highest level.
We found an ideal software developer for our company thanks to Ficus Technologies. We were impressed by the high caliber of software engineers they presented to us during the process, which was smooth and efficient. After completing the project, we strongly advise anyone seeking staffing solutions to address the Ficus Technologies company.
Our company urgently needed a Frontend developer with React.Js knowledge. We contacted Ficus Technologies about possibly engaging their specialist to work on our project, and they provided us with a developer whose technical skills fully met our needs. The project was completed on time and met all our requirements. We highly recommend Ficus Technologies.
We had an urgent need for a skilled professional, and the Ficus Technologies team went above and beyond our expectations. They successfully identified competent specialists for our project, enabling us to swiftly fill the vacant position. We applaud their professionalism and wholeheartedly endorse their services for any enterprise.
They worked challenging and gave us quality services for us. It was an excellent experience of cooperation with the Ficus Technologies team, which is professional and proactive and supplied outstanding software developers to our organization. We are incredibly thankful for their assistance and would gladly hire them again for our future projects.
Frequently asked questionS
When using React.Js & Python?
React.Js & Python developers are undoubtedly wanted in businesses that work with a lot of interaction with customers through a website or application. This is the optimal solution for ecommerce.
Why use React.Js & Python?
One of the main reasons people use React.Js & Python is the flexibility, adaptability, and the ability of React.Js & Python developers to create interactive animations for your sites and applications.
What can you build with React.Js & Python?
If you decide to hire Python and React.Js developers, you will have a massive range of opportunities to create almost any software, from e-commerce sites to CRM systems.